Change Data Capture Software
CONNX DataSync is a change data capture tool that captures incremental changes and delivers them at user-defined intervals to a data warehouse in a fraction of the time full extracts typically require.
Incremental Updates
CONNX DataSync quickly detects which records have been added, deleted or changed and propagates the change data to the data warehouse. Synchronizations can be scheduled or performed on demand.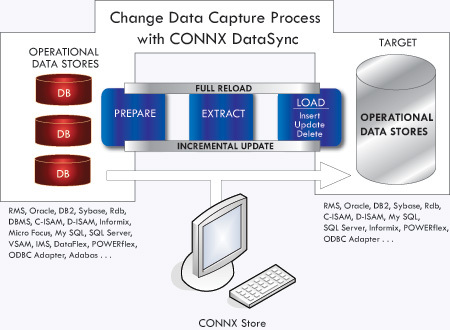 Versatile
CONNX DataSync works in conjunction with the CONNX distributed SQL Engine to move a company's enterprise data from virtually any source location to virtually any target. CONNX DataSync can capture changes from single or multiple data sources.
Scalable
CONNX DataSync is specifically designed for multi-machine environments, which can drastically reduce the load against production systems. Multiple synchronization servers can be added to meet increasing demand.

Fast to Implement
After importing source and target databases into the CONNX repository, you can have CONNX DataSync up and running within an hour of installation.

Easy to Use
The CONNX DataSync Administrator allows you to easily specify which data to move, which targets to move it to, when to move the data (scheduled syncs) and if the transaction should be a full reload or an incremental update.

The Tool for Minimizing Project Risk
CONNX DataSync eliminates manual/one-time programming efforts and offers the option to automate synchronizations between the source and target data.

Ideal for Joining Legacy non-relational and Relational Data
CONNX DataSync can be used for migration projects and to support Business Intelligence, or event-driven Business Process Management applications where legacy data from non-relational databases in production environments must be joined with relational data.

CONNX DataSync:

Feature

Benefit

Incremental updates – detects which records have been added, deleted, or changed, and inserts, updates, or deletes the corresponding data in the data warehouse snapshot tables.

Eliminates "homegrown" solutions.

Each file in the synchronization process may be scheduled independently or as a group.

Eliminates the need for extracts.

Full reloads – purges all prior snapshot data in the data warehouse and replaces it with a completely new snapshot of the data.

Eliminates manual steps in the data synchronization process.

Complete, built-in scheduler. NT scheduler service runs data synchronization jobs at the appropriate time.

Minimizes project risk.

Task execution – tasks can be triggered to run before and/or after a synchronization job runs.

Minimized computer resources.

Benchmark results show incremental updates were between three to 20 times faster than full reloads for these customers. Refer to the grid, 'Performance Matters' to the left.

Streamlines time to populate target data sources.

CONNX Clients have the flexibility of querying either against the data warehouse and data marts or against the live operational data sources.

Decreases update times significantly.
CONNX Web enablement can provide Web access to any of the CONNX modules.
Sales Info
To receive further product information or to order CONNX or CONNX DataSync software please contact a CONNX Solutions sales representative by phone, fax, or electronically at:
888-88-CONNX (U.S.A. only)
425-519-6600
425-519-6601 fax
Request more information or a free software evaluation .